Strategic P

artner
About TFSS: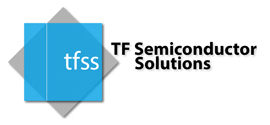 TF Semiconductor Solutions (TF Semi) is synonymous with leading edge technology. Our mission and our focus - to utilize TF Semi's design expertise to solve the world's toughest IC challenges for Power Management.



Excellence in semiconductors requires system and application knowledge, innovative and experienced designers and process technology optimized for the specific application. At TF Semi, we have assembled a set of unique core processes and a dedicated team of technologists to create world class ICs in the areas of Power Management and High Performance Interface.
TF Semiconductor Solutions is a worldwide leader in the design and manufacture of energy efficient integrated circuits, for both Power Management and high-performance Interface. Leveraging our proprietary 750V technology, global design teams and innovative intellectual property (IP) portfolio TF Semi is able to provide the electronics industry with innovative solutions enhancing performance and reducing power consumption.
History of Innovation: